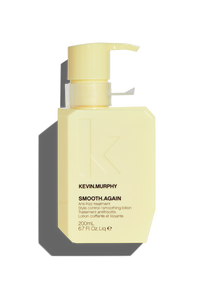 Dual purpose SMOOTH.AGAIN delivers all the benefits of a hard-working styling product, alongside the smoothing and nourishing benefits of a treatment. Our leave-in smoothing treatment helps eliminate frizz, leaving you with smoother, silkier more touchable hair.
Provides, long-lasting hydration  

Helps nourish and protect the hair

Helps smooth and control frizz

Ideal for thick, coarse, and unruly hair

Sulphate, paraben and cruelty-free
APPLY. SMOOTH. STYLE. Apply SMOOTH.AGAIN to towel-dried hair and style as desired. For optimal results, use after SMOOTH.AGAIN.WASH and RINSE, and as part of our SMOOTH regimen.
A native plant from the island of Corsica, Helichrysum Italicum (Immortelle) Extract is renowned for its anti-ageing benefits. Alongside its beneficial soothing properties, it also helps to strengthen and repair the hair.
Derived from the seeds of the Baobab tree found in Eastern and Southern Africa, Baobab Seed Oil is revered as a natural source of vitamins and antioxidants that help in the fight against ageing. The Seed Oil helps to moisturise the hair, while improving the feel of elasticity and tone.
A carefully selected blend of 6 highly beneficial Australian Fruit Extracts (Desert Lime, Australian Round Lime, Illawara Plum, Australian Finger Lime, Burdekin Plum and Kakadu Plum) were chosen for their resilience to harsh climate conditions and their hydrophilic properties.
Known for its ability to withstand the harshest of climates, Orchid Flower Extract is rich in nourishing proteins that help to reinforce and strengthen the hair, while imparting intense hydration, softness and elasticity.
Cupuaçu Seed Butter is derived from the Brazilian Capuaca seed, and is known to help protect, smooth and soften the hair. In addition, Capuaca Seed Butter also helps boost hydration to dry, damaged hair while imparting shine.
Camellia Sinensis Leaf Extract (Green Tea) has been revered for centuries for its powerful antioxidant properties. Helps to increase the feel of hair's elasticity and aids moisture retention.
Lotus Flower Extract, known for its highly soothing emollient qualities helps leave the hair feeling soft and supple.