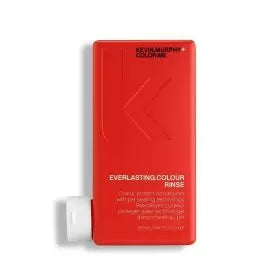 A colour-locking conditioner forms a protective layer to guard against colour loss and environmental stressors, while pH balancers help create shine and improve hair's condition, softness, and hydration while reducing damage and never weighing down the hair.
Hydrolyzed Rice Protein creates a natural shine and helps to nourish hair from root to tip creating a natural shine and increased elasticity and strength.
Inulin (Chicory Root Extract) is a natural prebiotic fiber that supports the scalp's natural microbiome for improved scalp health and hair hydration, shine and smoothness.
ILLUMINATE Complex improves shine and softness and enhances colour fastness while protecting against stressors.
CHROMATIC Complex is a hydrophobic film-forming complex designed to assist hair fiber protection and colour wash fastness by protecting against humidity and other environmental elements such as UV radiation.
The acidic pH System provides the optimum environment for a colour-lock by closing the cuticle after hair colour and respecting the natural pH of the scalp.