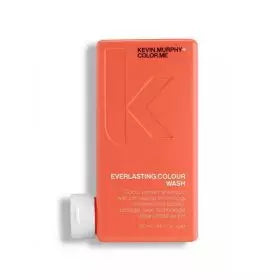 A sulphate-free, pH balanced shampoo gently cleanses and closes the cuticle for a shine that helps to lock colour in while protecting hair strands from hard water mineral accumulation to guarantee brilliance. Weightless formula doesn't weigh the hair down.
Hydrolyzed Quinoa and Rice Extract are a powerhouse of amino acids that helps protect and improve colour retention while creating shine, helping to nourish hair from root to tip. It also helps fortify to prevent damage and assist in colour-lock.
Natural Phytic Acid is a biodegradable chelating agent that repels and protects hair from hard water minerals leading to improved shine.
Inulin (Chicory Root Extract) is a multifunctional ingredient extracted from Chicory Root. This natural prebiotic fiber helps to support the scalp's microbiome for improved scalp health and conditioning and detangling properties.
CHROMATIC Complex is a hydrophobic film-forming complex designed to assist hair fiber protection and colour wash fastness by protecting against humidity and other environmental elements such as UV radiation.
The acidic pH System provides the optimum environment for a colour-lock by closing the cuticle after hair colour and respecting the natural pH of the scalp.